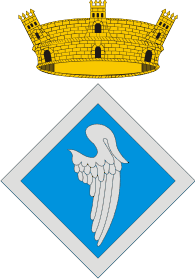 [Working journal while I continue to obsessively assemble a project of dubious interest & limited appeal.]
This one's going to be a quick note about a small victory: in this case, an organic cava producer called Alta Alella. Good wines, coming, as most cava does, from Catalunya. They're close to Barcelona, between the towns of Tiana and Alella, hence the name: Above Alella.
But where does Allela's name come from? Time for a trip to Catalán wikipedia!
Documented for the first time in 975 AD in a contract for the sale of land "marking the limits of the west", a nice machine-translated turn of phrase, then two decades later there's a saint named Feliu from there mentioned during a land swap, something something marriage something something monastary. Eventually purchased by the monarchy and a royal town ("royal" here meaning Kings of Aragon, who were also the Counts of Barcelona) for a long while thereafter.
Fine fine. Nothing terribly useful so far. But wait: here's the coat of arms! And here I learned something I didn't know, I don't think, which is that coats of arms often sounded out the names of the places or people they represented, which makes sense in a preliterate society. These are called in French & Spanish armas parlantes, armes parlantes, speaking arms, and in English, canting arms, which is to say singing arms, from Anglo-Norman cant, eventually from Latin cantare), which I think is kind of lovely. Go back far enough and these are often thousand year-old clues in heraldry to shifts in dialect, pronunciation, accent.
The town of Alella is carried into battle (or, today, marked on taxis) by the sign of a—oh ok, I'll let them say it:
«Escut caironat: d'atzur, mig vol abaixat contornat d'argent; la filiera d'argent. Per timbre una corona mural de poble.»
That's the language from the most recent municipal ordinance in May 2001, but the important thing is the wing, ala, silver & lowered in midflight (medio vuelo bajado, mig vol abaixat), from whence Alella, more or less. The town of the silver wing lowered in midflight.
The Alta Alella bottling on the list, "Bruant", is a general French (Catalán too?) word for any bird of the passerine family, the same way we'd say songbird.
Cava, by the way, is what happened when the Spanish were forced by the French in 1972 to give up calling their century-old tradition of champagne-method sparkling wines "Champañas." Vino de cava, the newly-invented legal term of art, referred to the caves (cavas) in which the bottles slumber during secondary fermentation & aging.